Before you read this: Please be aware of that there no information in it about the Lab exam or its content. Everything is under NDA and I will not sahre that information with anybody. Please respect that. This is just the story about my advanture. Mostly from the first try, because I didn't document the second trip again after the first one ended up that horrible. I also missed to take some pictures from the car on the tow truck.
To spend the free time during the Covid-19 pandemic into something useful, I restarted the studies for my CCIE Collaboration exam. After I stopped studying because of a lot of work in the beginning of the pandemic (everyone wanted to work from home and immediately wanted to have a conferencing solution, even if they always said it's not needed for them), I took a new start.
I brought back up my whole Lab systems and adjusted everything to the CCIE Collab v3 requirements. Then I joined Vik Malhi's bootcamp in March, which also had to happen remotely via WebEx. We went through a lot of interesting stuff and I learned a lot during this week with Vik. Also I went through all the videos and all the information I could find on Cisco Learning Network. Also there is a lot of useful information to find. They do some webinars frequently which are very useful.
After spending a lot of time in practicing, I scheduled the first attempt in Brussels. Before I took the way to Brussels, we had some other quick sessions with Vik to clarify some additional things, which came up during practicing.
So then, I felt ready to start the journey to Brussels. Because of the pandemic, all the airlines did decrease the amount of the direct flights from Switzerland to Brussels. That's why I decided to drive by car. That way led me through France, which required a negative PCR-test. Therefore my journey started with an unpleasant thing…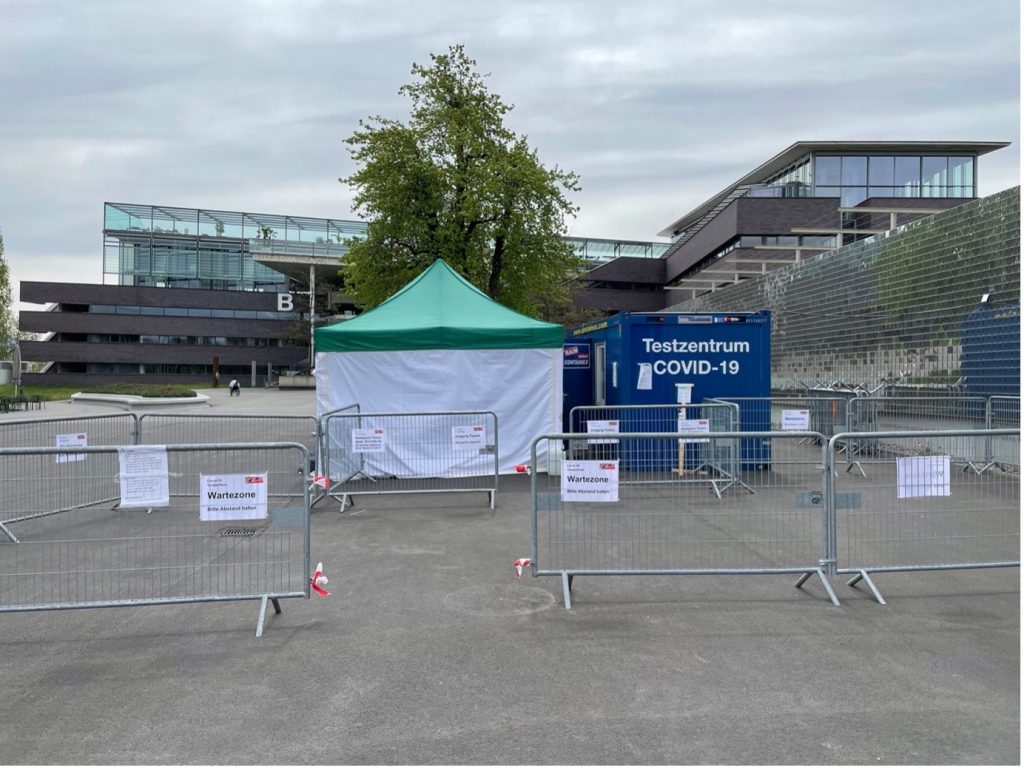 The next day before noon, I got the result; negative, all good. I could start the trip then.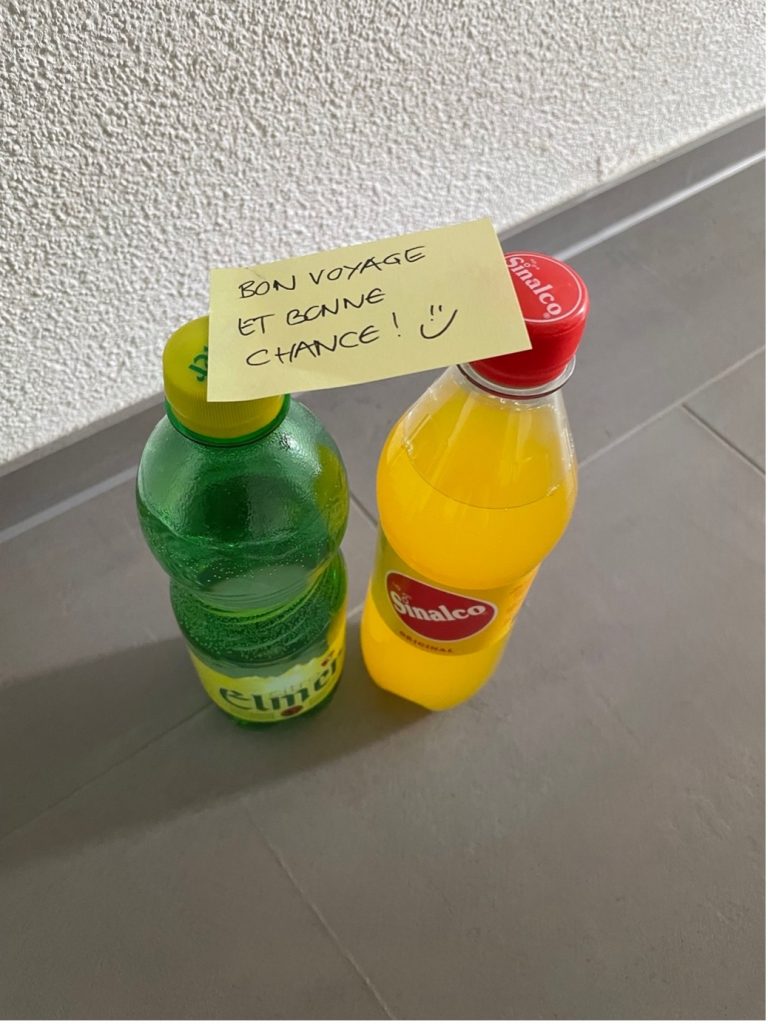 When I was leaving the flat, I found a surprising present from my dear neighbors. That was an additional motivation, many thanks again 🙂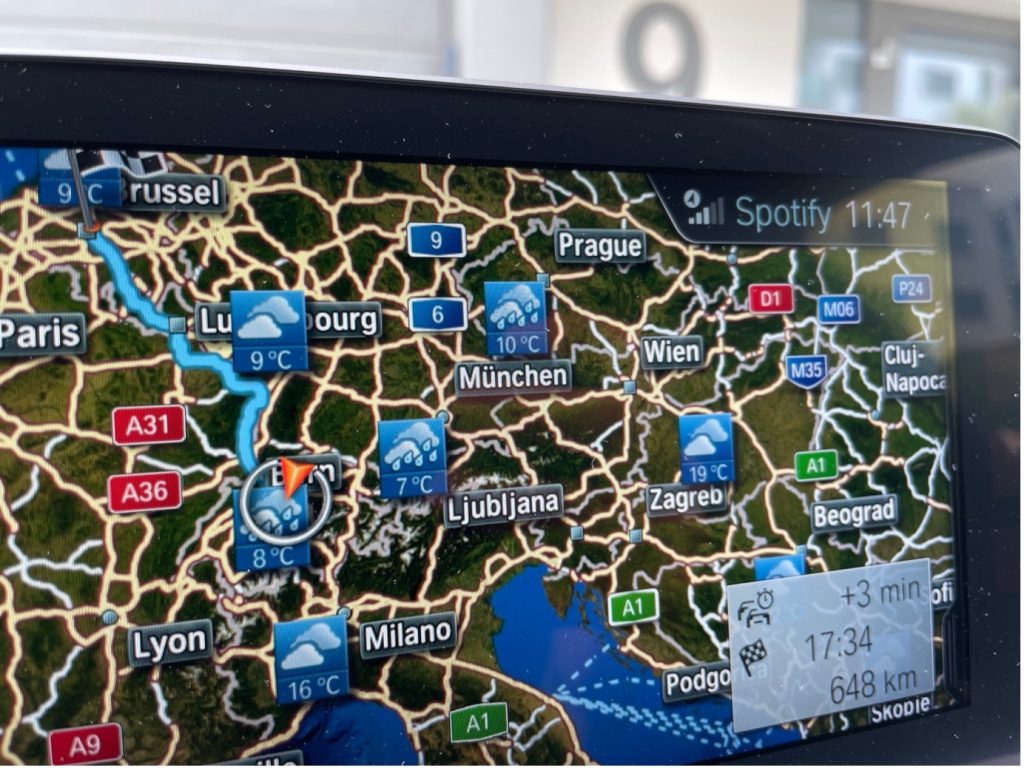 Thanks to the available technologies in 2021, I didn't have to care about the directions. My GPS did this for me 🙂 It took a little while to calculate, but in the end, everything was ready.
Also, it reminded me to take some breaks in between, or almost in the end. I don't know, what the indicators are for presenting this message. But because I still felt good and awake, I took the rest of the way, as it was only a bit left.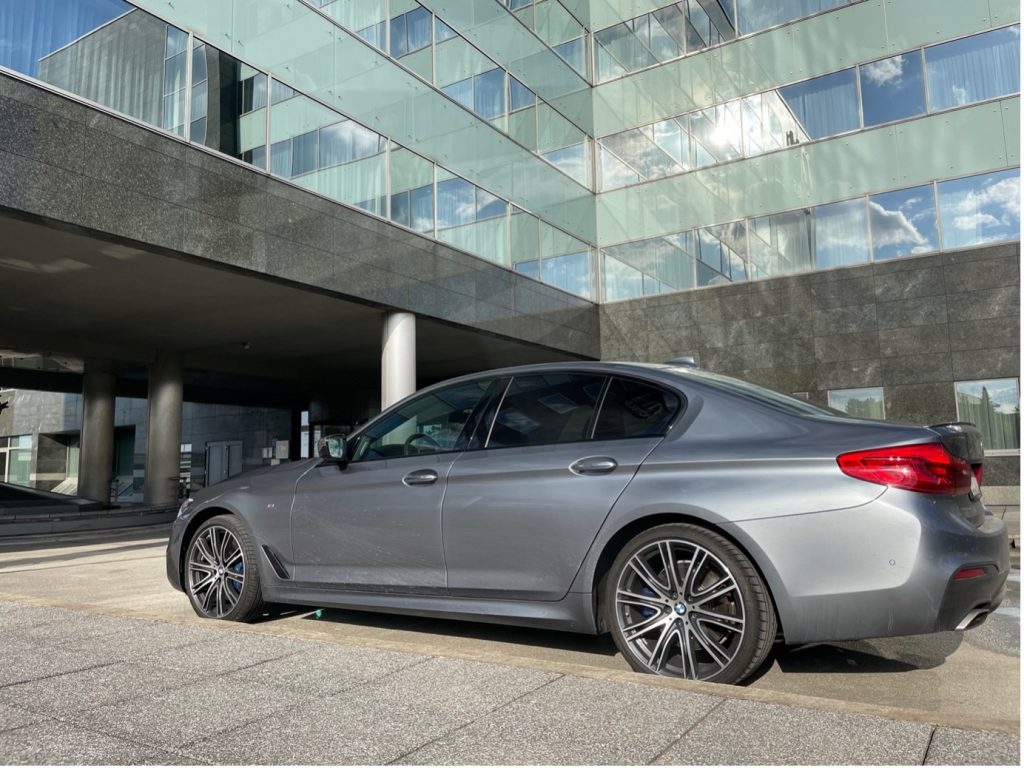 After a little more than 6.5 hours, I already arrived at the NH Hotel in Brussels. Most of the people who took the CCIE lab in Brussels, most probably know that place.
The check-in worked fine and quick and I could access the room. After checking my latest notes, at 8:30pm, I wanted to treat myself to a beer. But then the bad news… They were not allowed to sell any alcohol after 8pm because of Covid-restrictions. So, no beer for me 🙁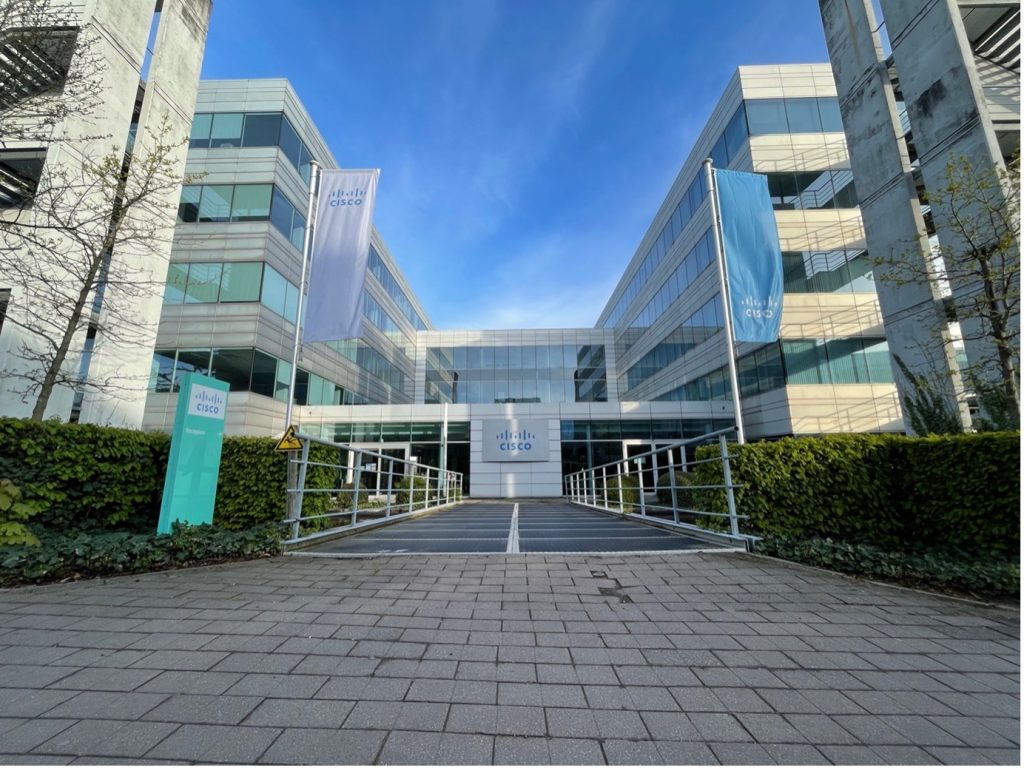 Also, without having a beer, I had an acceptable sleep and I was at the Cisco building 10 minutes before I had to be there (like I learned in the Swiss Army; "5 minutes before time is on time"). Therefore, I still had enough time to take the obligatory picture of the (almost) most famous bridge.
Around eight hours later, I left the building, knowing that I most probably are going to get a "fail", because I couldn't finish the whole exam. I guess, I was too nervous and the whole situation and environment was overwhelming me too much. I struggled a bit with everything and I was not prepared to work in that environment. Ok, I haven't lost until then, as I didn't get the results yet.
I started then the ride back home. The plan was to be at home around midnight and to use the ride to calm down a bit. Everything started well, a bit of traffic around Brussels, but then I could drive all the way to Luxemburg, where I had to get gasoline for the first time. I knew, gasoline is quite cheap there, theeefore I planned it like this.
After that stop, my GPS told me, there is a lot of traffic at the French boarder, probably because they checked if everyone has s negative PCR-test or is allowed to pass the boarder.
My GPS suggested then, to take another way partially through Germany. I accepted and could drive around the traffic. Worked fine… but then it happened. Back in France the way led over a national road (something between a highway and an interstate). After a light corner, the whole road was damaged and I couldn't drive around it or break enough. I exact hit the damage and a few second later, my car complained because of loss of pressure on one wheel. I had to stop and thanks to the "runflat-tires" I could at least leave the national road. Because I still had to drive more than 300km to get back home, I had to call the road assistance. Luckily the mechanic who hooked me up, spoke German. At 10:30pm we arrived at his garage and he checked if he can fix the tire. He couldn't and he had to bring the car to a BMW garage the next day.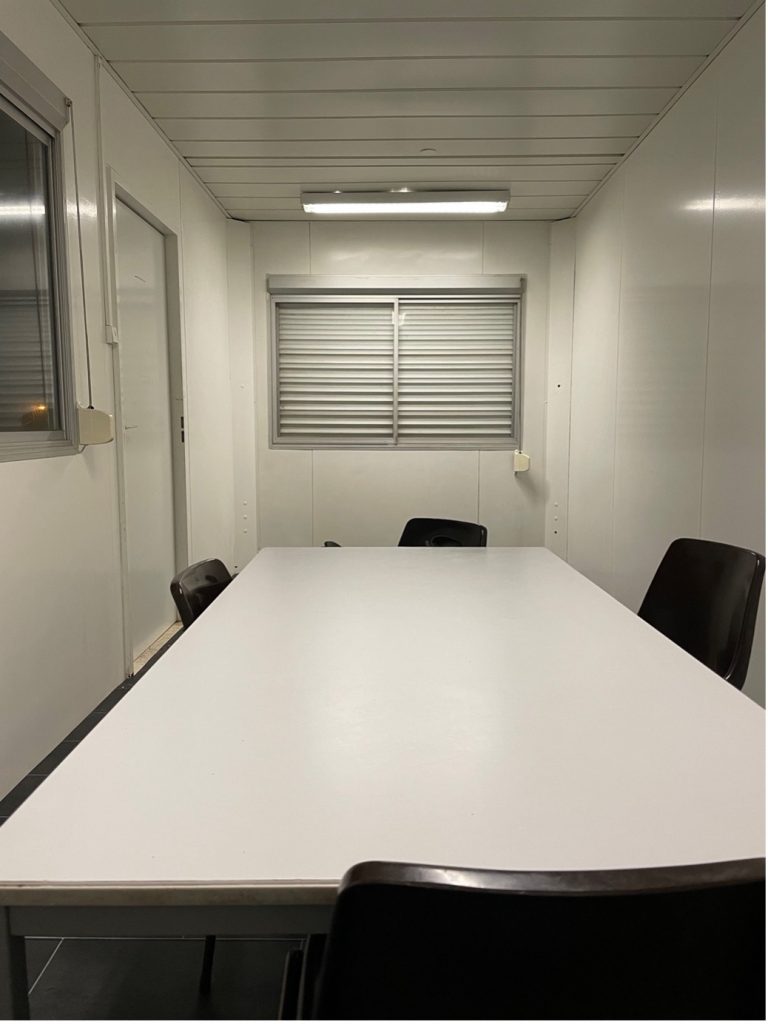 The insurance organized then a hotel room and a taxi for me. The mechanic let me wait in a heated container for the taxi. That was a bit scary, sitting alone in that container in the middle of nowhere…
Arrived in the hotel, everything was prepared but they could not serve any food at this time anymore. So, I had to eat the rest of my bread which I brought from home and which was quite dry in the meantime. This was still the better choice than the leftovers of my room neighbors 🙂
The next day in the morning, I checked how my car was doing in the backyard of the garage where I had to leave it in the evening.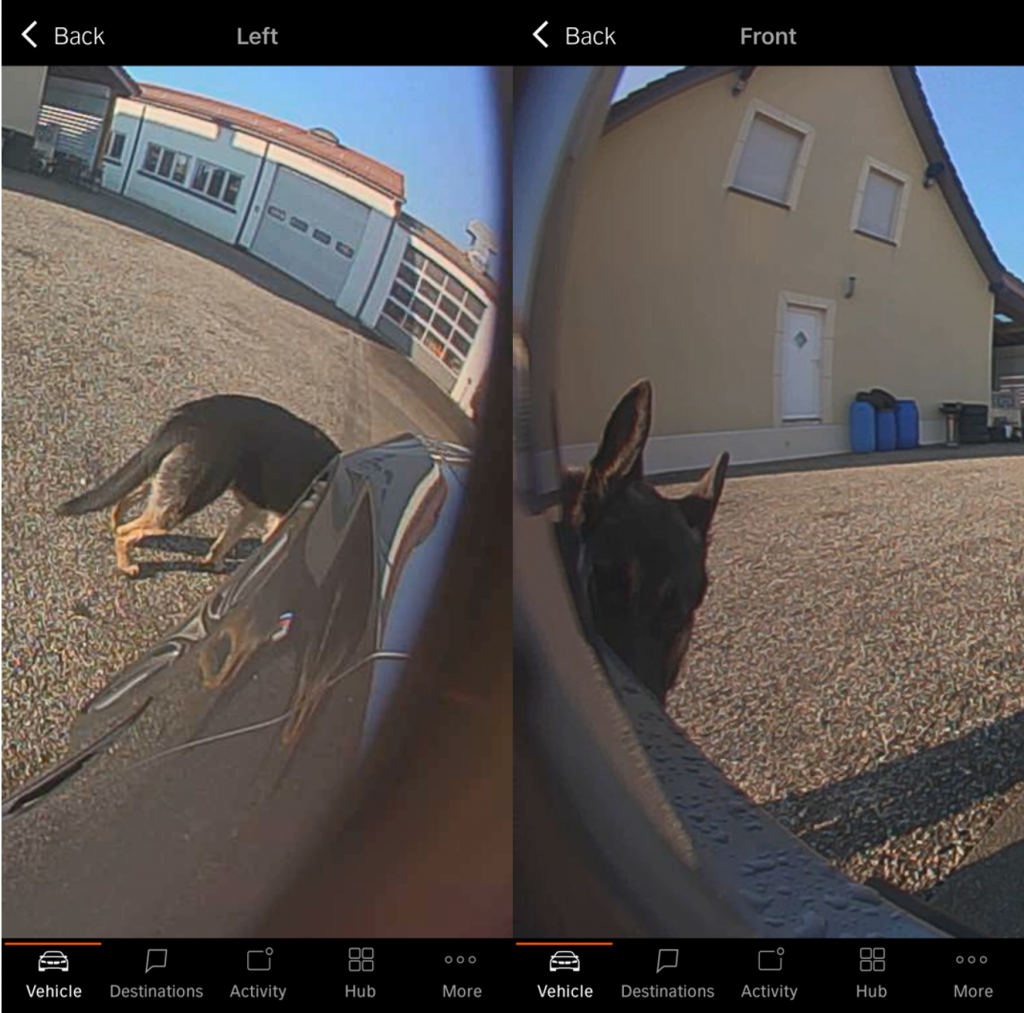 I'm quite sure, the guy was doing something there, what he definitely should not do 🙁
But I hope, after finishing his "business", they were friends and he protected my car then.
A bit later, my car was on the way to the BMW garage. And at 9:30am, the mechanic who picked me up in the evening, called me to tell that he dropped the car at the BMW garage and I should call them to check if they can fix it in an reasonable time, or not.
The garage then told me, because of the xDrive they need to change all 4 tires and it would take up to four days until they can get them. I was a bit surprised that it would take that long and I told them, they only need to fix it that I can drive home. It would also bi ok, if they put on an old, used tire… but the guy wasn't really willing to help. So I told him to keep their fingers from my car, and told that the insurance. They then organized a rental car and the transport of the car to my garage in Switzerland.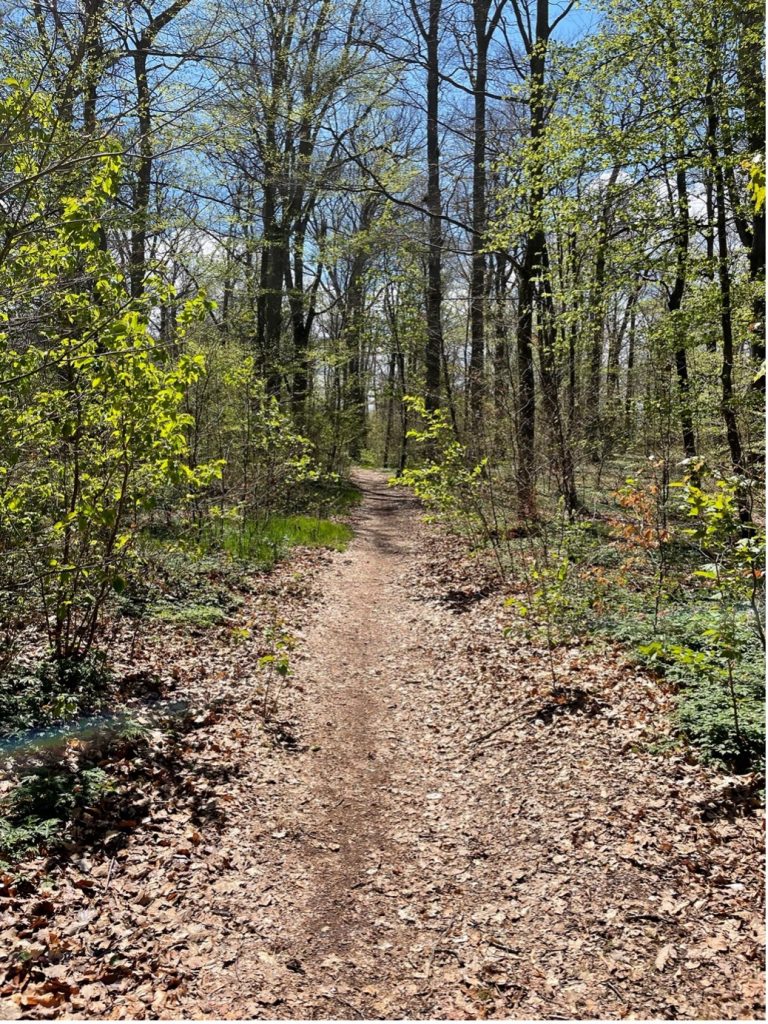 Just before they kicked me out of the hotel, the insurance finally could get a rental car for me and I could pick it up in the same city as I was. BUT, because it was just before noon, I had to wait another two hours until they came back from their lunch break. So, I took a 30-minute walk to the car rental pickup which led me through spooky ways. But I survived and arrived healthy at the pickup, where I still had to wait for 1.5 hours.
After the lunch break and another 30 minutes of paperwork, I finally got a car. A VW Golf. I thought, Ok, at least I can drive home and it has GPS but then, after a long time, I had to handle this; 3 pedals 😀 But Ok, all good. It brought me back to Switzerland and almost 24 hours later than planned, I was at home again.
In the meantime, also the result arrived, but because I had too much time in the hotel and during waiting for the guys from the car rental, I logged in too often to the CCIE portal and I was locked out until the next day. So stupid, now I had to wait until the next day to get onto the results.
The next morning, I it was time to check it… As already expected, it was a "Fail". And the first thing in my mind was: "F***, not again the whole journey". But a few minutes later, I had already booked my next lab date. Exact 32 days later…
After almost 2 weeks without doing anything, I started practicing again. At the same time, or even a bit later, my car came finally back to Switzerland. After changing the transporter a few times, it arrived then at my garage. They had to change the whole wheel because also the rim was damaged. But other than in France, the material was delivered already the next day not only after four days.
This time I wanted to be prepared also for the environment and I adjusted my setup. I changed the keyboard the most crapy one I could find and I also changed the resolution of my 4K display to a lower one. Just to not be used to a too good setup.
After 2 weeks of practicing, I took the whole way again. The flight plans were still not changed and unfortunately, I had to drive again the whole way. Because I didn't want to do a PCR-test again and hit again a damaged road, I drove around France and took the way through Germany. Even if this is the longer way and it took a bit longer, I enjoyed the ride on the German Autobahn 🙂
Overall, it took me 30 minutes longer than driving through France, but that was fine for me. I arrived then in the NH again, but again I was too late for a beer. But it also worked the last time and I even had a better sleep than the last time.
In the morning, I was on time again and there were already a few other guys waiting at the entrance. Same procedure again, get in, sign some papers, take the exam, get out… This time I could finish everything, and I was happy about that. It went quite well for me, but I was again not sure if this was enough. But at least, I felt much better than the last time.
I went back to the hotel and there I met one of the other guys who was attempting, also coming from Switzerland. We had a short chat, how it went and then I started the way back home. Some good music in the car and the sun was brining me a bit down. Luckily this time, everything went well on the way. There was a huge thunderstorm near Karlsruhe where I had to drive very slowly, but this was everything. I even overtook one of my colleagues on the Autobahn at 10pm. What a surprise and coincidence…
Back home I had my well-deserved beer and then I went to bed. In the morning, I knew, I must not check the CCIE portal until the notification email arrives. I was waiting the whole day and the whole evening. There was no mail coming in… I didn't know if this is a good or bad sign 🙁 Somewhen I realized that I had to wait again over the night and decided to go to bed. I had a really bad sleep and I woke up almost every hour and every time I checked my emails. No notification, the whole night. In the morning I took the risk and I logged in into the CCIE portal; no results yet 🙁
I still had to wait. At 9.30am I had to join a WebEx meeting which was supposed to run until 11:30am. But then, at 9:45… the notification arrived. I didn't think about to wait until the end of the meeting. I had to check the result. So, I logged in into the portal and there it was: PASS !!! What a great feeling and I was extremely relieved about it.
And here it is: